Vegan Oil-Free Zucchini Carrot Fritters
Posted by The Gourmet Box on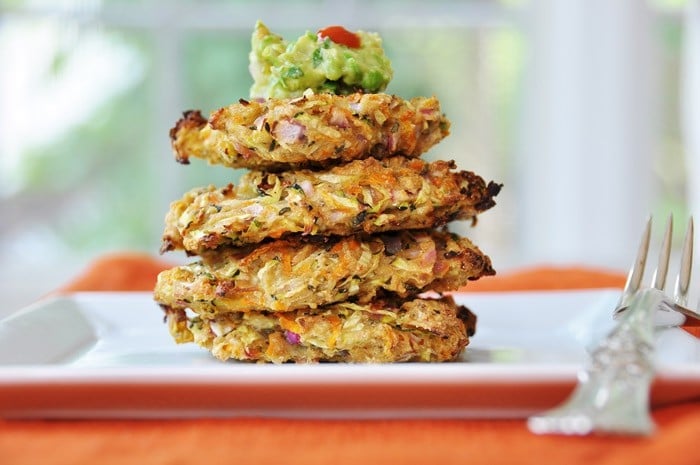 I have been trying to eat healthy to get in shape for the festive season that starts from this month. Whenever I tell that to someone, the first thing they ask me is how can you have only soups and salads every night for dinner. And I agree, eating the same thing every night can be very boring thus making you go back to your unhealthy eating habits. I started searching for healthy recipes for dinner so that I don't lose focus. I came across some fab recipes that sound delicious and can help you stay healthy as well - Zucchini Carrot Fritters.
One of the recipes I found very interesting was Oil-Free Zucchini Carrot Fritters. Can you imagine fritters without any oil - its like music to my ears.
Ingredients:
1 large zucchini – finely shredded
3 large carrots – peeled and finely shredded
2 tablespoons of finely ground sea salt
1 large red onion – finely chopped
¼ cup of fresh sage leaves packed in the cup and then minced
2 tablespoons of ground flaxseed + 6 tablespoons of water
1 and ¾ cup of stone-ground flour or all-purpose flour
1 teaspoon of finely ground sea salt
1 teaspoon of ground black pepper
1 lemon
Preparation:
Preheat the oven to 190° C and line a baking sheet with parchment paper to prevent the fritters from sticking. 
Shred the zucchini and carrots and place on a bed of paper towels and sprinkle the salt evenly over the top, then rub the salt throughout.
Let sit for twenty minutes until the zucchini and carrots release their water. Squeeze with paper towels to absorb the water. 
In a small bowl mix the flax and water until well combined and let sit. In a large mixing bowl combine the zucchini, carrots, onion, sage, flax eggs, flour, salt, and pepper. Stir until it turns into a sticky ball.
Scoop a quarter cup of batter and use your hands to form patties. Place on the baking sheet and squeeze the lemon juice evenly over the top of each patty.
Bake for approximately 15 to 20 minutes, checking every ten minutes, until they're golden brown. Flip, squeeze lemon juice on top of each patty and bake until golden brown. Remove from the oven and let sit for 5 minutes.
We'd love to hear your experience on trying this recipe so scribble it down in the comments section below.
Image & Recipe Source: http://www.veganosity.com/vegan-oil-free-zucchini-carrot-fritters/
---
Share this post
---
---
---
0 comment