4 Ways To Use Your Veggie Scraps
Posted by The Gourmet Box on
Root to Stem Cooking is the biggest trend in global kitchens today. Chefs all around the world are veggie stalks, stems, leaves, etc, which normally would be discarded, and turning them into delicious sauces, pickles, purees, salsa, stock, etc. They not only carry tonnes of nutrients but also are packed with flavor.
One person's discarded vegetable parts make another's dinner. That's why we're revisiting this trend for getting the most out of your market haul.
Instead of asking your bhajiwala bhaiya to behead that bunch of carrots or cauliflower, bring it all home. (Although once at home, you should remove the tops from bottoms and store them separately, as the tops leech moisture.) It takes a fair amount of resources to grow vegetables, and we should respect them and make use of all that plant energy!
Here are few different ways you can use veggie scraps -- and enhance the natural qualities of typically-discarded parts.
Vegetable Stock:

Toss those mushroom bottoms, broccoli/cauliflower bottom, potato skins, onion skins, green stalks, carrot skins, etc in a pot of water and boil, boil, boil. Simply add the vegetables, water, herbs, and garlic, simmer for an hour, and strain. Freeze this stock and use it in your recipes at your convenience.



As the Main Attraction: 

Broccoli stalks can hold their own in a salad; first remove the outer peel, and then shred thinly. When cut in smaller pieces, the stalks of broccoli and cauliflower roast just like their floret counterparts -- and will have a similar flavor. Broccoli stalks can make a great substitute for Brussels sprouts in a salad. The leaves of broccoli and cauliflower are most definitely edible -- and should be thrown into salads or sautés. Beet and turnip greens need no doctoring; use them wherever greens are called for.



Sauces:

You can make a salsa verde using chopped carrot tops as a substitute for parsley. stems and cores make a delish pesto. Follow the traditional recipe of pesto except boil and purée the cores in place of basil or other greens. Kale stems make a great replacement for basil in a pesto.



Pickling: 



Although not everyone wants to pickle everything under the sun, pickling is a great means for making excess vegetable parts more edible. Broccoli stems, chard stems and watermelon rinds become delish pickles.
Here are some recipes that you can try at home using some veggie scraps:
Radish Greens Pesto
Creamy Broccoli Stems Soup
Pasta with Beet Greens, Blue Cheese & Hazelnuts
Potato Peel Chips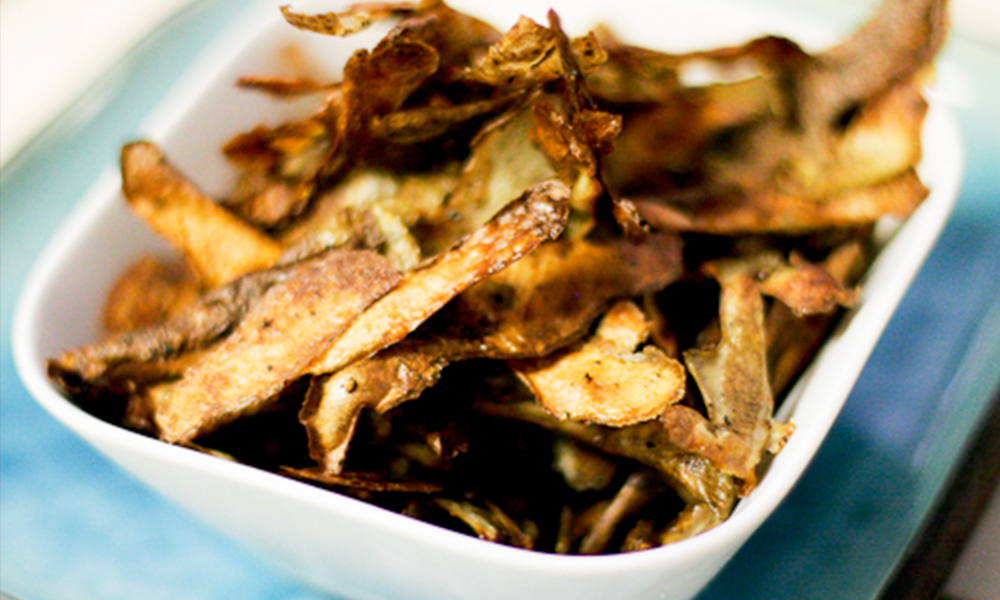 Swiss Chard Stems Hummus
Reduce your veggie wastage at home and get the best out of your market purchases. We cant wait to hear how you used your veggie scraps. Try these delish recipes and let us know how you like them in the comments section below.
Pictures & Info: Credit to Source website
---
Share this post
---
---
---
0 comment