Must Have 10 Modern Kitchen Tools List For Homecooks
Posted by The Gourmet Box on

Must-Have Kitchen Tools List
Most of the time, cooking is a fun activity for me. But sometimes it can become a bit drab. That is when cool kitchen tools make cooking exciting. Innovative kitchen tools have changed the way we cook. They are so simple yet so usable and because of that, they have become modern-day must-haves in your kitchens.
Here is some of the kitchen tools list that I think are must-haves are:
1. Mincing Knife
 Let us face it I am not a professional chef and I cannot cut as well as them. Which is where this mincing knife comes to my rescue. Herbs, onions, garlic, nuts, or whatever else you need can be chopped fine with this knife. Also its kinda fun so try it and you will see what I am talking about.
2. Vegetable Spiralizer
Zucchini Noodles are the biggest trend right now in the food world. A lot of people are trying to replace noodles in their soups and salads with healthier and gluten-free options like zucchini and carrot noodles. They look great for garnishing salads for parties and celebrations.
3. Citrus Juice Sprayer
Till now I was using the good old lemon squeezer to put lemon juice in my food. But this citrus squeezer has made it so much easier to flavor soft drinks and cocktails or season salads, seafood, or other recipes with a light mist of fresh citrus. It also comes with 2 sizes optimum extraction: longer unit for larger fruits like oranges and sweet lime; shorter unit for smaller fruit like our tiny Indian limes and tangerines. You can just store your citrus as it is with the spray filter and included the dish until all the juice is used.
4. Herb Savor
Nothing makes your meals taste better than the freshest ingredients. Herb Savors helps prolong the life of your fresh herbs for up to 3 weeks. Just place your fresh cut basil, mint, cilantro, rosemary, parsley, etc. into each of the three included pods, fill the base with water, and place in your refrigerator door to use as needed when cooking. It is one my favorite from the kitchen tools list and I think everyone needs to have one.
5. Foldable Chopping Board
You won't know how much you need this one until you have one. Days of spilling your veggies after cutting them on the chopping board are over when you use a foldable chopping board Cut your veggies or herbs and put directly into your salads or dish without any spillage - how cool is that!
6. Basting Brush
News Alert: Basting brushes have almost eliminated the case of greasy hands. No more using your hands to spread oil, butter, or sauces on your patties or baking dishes.
7.Egg Yolk Separator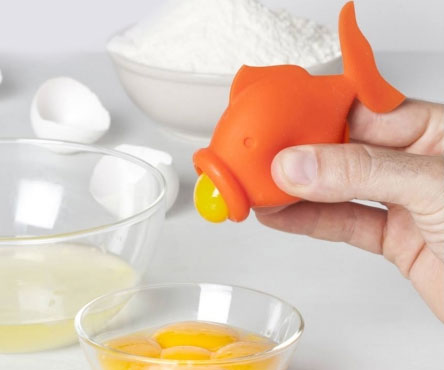 Separating egg whites and yolks has always been a messy job and I hate the eggy smell that stays on my hands - eeks gives me the jitters just thinking about it. This ingenious cooking aid easily scoops up the yolk once you pour the egg into the bowl without creating a mess or popping the yolk. Making healthy egg white omelets or baking delicious and fluffy meringues just got easier with this simple and super convenient in our kitchen tools list.
8. Garlic Peeler
Bless this person who thought of this kitchen tool and I am sure everyone who cooks shares my sentiments. Its a simple silicone tube but it does the dirtiest job of peeling garlic with so much ease. Get one of these now and free your fingers from the torture of smelling like garlic forever.
9. Silicone Oven Mitts
I have always seen my mother use a cloth for holding the hot pans and lids. When I started cooking I used oven mitts. But I was never very comfortable using either of those as they would get dirty or things would slip easily. These silicone mitts were a perfect solution to all my problems. They are non-slip, flexible, heat resistant with added raised grips for a superior hold on anything. Also, you can just rinse them with water when they get dirty. To top it all you can buy them in your favorite color.
10. Salad Spinner
This one is a bit of a splurge but it does the job of straining your salad greens of water without shriveling them. They spin away excess moisture, therefore, maintaining the crunch in your salad.
*Image Reference to owner's website
---
Share this post
---
---
---
0 comment