Are Millets making a comeback??
Posted by The Gourmet Box on
We are always on a lookout to try new grains in our daily diets. Besides its always good to mix it up a little - isn't it?. Eating your regular grains like your wheat and rice every day can get pretty boring. With the wide array of choices available to us nowadays why not try something new.
As we are noticing, it is becoming trendy to bring the old back to new. Be it fashion or even food. Everyone has started reinventing what the grandmothers used to wear or cook by giving it a modern twist.
Millets are no exception. These grains were used in olden days by our ancestors but totally forgotten today.
Millets are gluten-free, rich in fiber, proteins, minerals and vitamins. Besides being gluten-free, millets have higher nutritional value than wheat, especially phosphorus and iron. Its fiber content also helps prevent constipation and may reduce the risk of developing bowel disorders. Millets are easy to digest, contain a high amount of lecithin and are excellent for strengthening the nervous system.They contain complex carbohydrates which break down slowly and hence good for diabetic patients. The good think about millet is that they can be substituted for rice and wheat in your regular everyday staple recipes. These crops grow in poorer soils and are highly resistant to pests and diseases. Hence they are usually grown without any chemical fertilizers or pesticides.So they are mostly organic by default - how awesome is that??
Cooking millets is as easy as cooking rice. They can be cooked in any one of the following  two ways:
Pressure Cooker Method: 
Wash the millet. (Use a sieve to drain the water)
For 1 measure of millet add 2 measures of water in a pressure cooker.
Close the lid and cook in Medium-Large flame.
After the first whistle, reduce the flame.
After the second whistle, take it off the flame. DO NOT release the steam.
Leave it aside for about 10 minutes.  Let the millet cook in its own steam.
When the cooker has cooled and the steam is gone, remove the lid.

DO NOT mix using ladle/spoon when the millet is hot.  It will make it mushy/lumpy.
Transfer the cooked millet rice to a plate and have it hot
Transfer the cooked millet rice to a plate and cool it, if you are preparing any other dish.

As the cooked millet cools, it will become more firm.  It will become harder as time passes (more than 2-3 hours).
Open Vessel Cooking: 
Repeat the first 3 steps of the pressure cooker method
When the water starts to boil, reduce the flame.
When water evaporates (about 10 minutes), take it off the flame and firmly close the lid.
Leave it aside for 5 mins for it to cool.
Some of the most popular millets are:
Foxtail Millet:
Foxtail is very rich in phosphorus and thiamin (Vitamin B1) in addition to all the general millet characteristics (gluten-free, low glycemic index, high fiber, etc). Foxtail Millet is also called Kakum in Hindi
Kodo Millet: 
Kodo is very rich in dietary fiber and protein in addition to all the general millet characteristics (gluten-free, low glycemic index, high fiber, etc). It has high antioxidant content and it is highly beneficial for diabetes patients. Kodo Millet is called Kodon in Hindi.
Little Millet:
 Little Millet is high in healthy fats in addition to all the general millet characteristics (gluten-free, low glycemic index, high fiber, etc). It also has the smallest grains, so cooks faster than the other millets. Little Millet is also called Kutki in Hindi.
Proso Millet:
Proso Millet has the largest grain among the millet rices in addition to all the general millet characteristics (gluten-free, low glycemic index, high fiber, etc). It is golden in color, so it's also called the golden Millet. Proso millet is a part of the staple diet of many cultures. Proso Millet is called as Chena in Hindi.
Choose the millet that suits you and your dietary needs and get cooking with it today. Try this recipe of Lemon parsley millet using your choice of millet and let us know how you like em in the comments section below:
LEMON PARSLEY MILLET & COUSCOUS SALAD WITH LEMON GINGER BEETS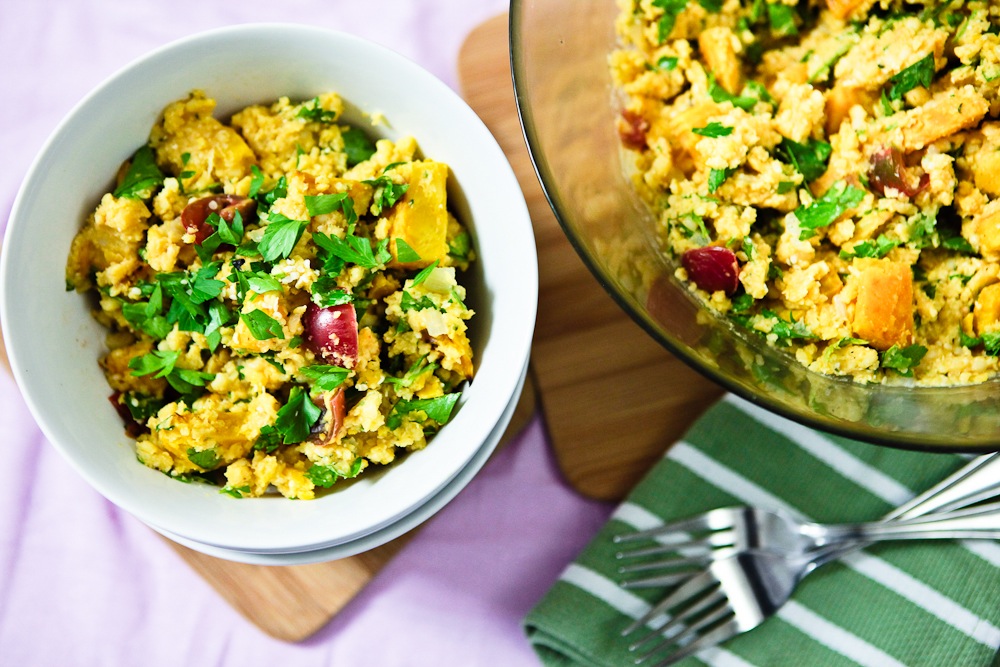 Ingredients:
For the beets:
4 golden beets, peeled and cubed
olive oil spray
1 Tbsp lemon juice
1 tsp lemon zest
several dashes of dried ginger
For the dressing:
½ cup fresh lemon juice (about 3-4 lemons)
1 Tbsp lemon zest
1 date, seeded and finely chopped
1 ½ Tbsp olive oil
½ Tbsp wine vinegar
½ Tbsp Dijon mustard
2 Tbsp hemp seeds
For the salad:
1 ¼ cup millet
1/3 cup couscous
2 cups of water
2 cups vegetable broth
1 tsp olive oil
½ onion, finely chopped
1 clove garlic, finely minced
1 ½ cups fresh parsley, chopped
1 cup cherry tomatoes, quartered
Instructions:
Clean the millet and then add the millet and couscous to a bowl.  Soak for about half an hour.
Zest 1 lemon and then juice all of your lemons.  You will need the juice of about 3-4 lemons.  Set aside.
In a 3 quart pot, heat the ½ tsp of olive oil over medium heat.  Add the onion and garlic and sauté for about 2-3 minutes.  Add the millet, couscous, water, and vegetable broth and mix to combine.  Cover the pot, raise heat and bring to a boil.  Once boiling, lower the heat to a simmer and recover.  Let simmer for about 10-5 minutes, stirring occasionally to prevent sticking, until liquid is absorbed.  It will have a sticky, risotto-like texture.  Pour the mixture into a large bowl and let cool.  You can refrigerate it to speed up the process.
While the millet and couscous are cooking you can prepare your beets.  Preheat the oven to 450.  Line a baking sheet with parchment paper and spread your cubed beets out on the paper.  Spray generously with olive oil spray.  Top with lemon juice, lemon zest, and ginger.  Add salt to taste and toss to combine.  Spread the cubes out evenly and place the baking sheet in the oven.  Bake for 15 minutes, flip the pieces over and bake for about 10 more minutes.  Remove from the oven and let cool.
While the beets are in the oven, and the millet and couscous is cooking, you can make the dressing.  Add all ingredients, minus the hemp hearts into a food processor or blender and blend until fully combined.  Pour into a cup and add the hemp seeds.  Stir to combine.  Refrigerate until ready to use.
Once the millet and couscous are cool, add the rest of the salad ingredients, the beets, and the dressing.  Use a strong wooden spoon to mix it all together.  Serve immediately or cover and chill until ready to serve.  It will keep for 2-3 days and the flavors intensify the longer you wait.  Enjoy!
Get your dose of millets and millet products at our website The Gourmet Box 
Info and Image: credit to source website
---
Share this post
---
---
---
0 comment